Chander K Madan CEO and Founder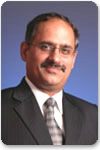 Chander is the Chief executive officer of eAge Software Services with over 23 years' in General Management, Finance, Business and Operations, in reputed US and Indian organizations such as HP and NIIT.
In his last assignment at HP, as Vice President and General Manager for Commercial Systems unit, he built, managed and led significant Business Units for the Personal Systems Group in Asia Pacific and Japan. In this role, he was responsible for the overall business performance of the HP Business PC, workstations and remote client solutions product lines. He was instrumental in driving new business models like remote client solutions and thin clients in the Asia Pacific region.
Under his leadership the Business Unit attained record revenue and profit levels for CSU business.
Prior to this, Chander served as VP Finance for Personal Systems group - Asia Pacific and Japan for 5 years. As VP finance, he was instrumental in helping to turn around the PSG business at the time of merger to record profit levels and growth well above market average. He also helped drive the emerging market growth plans of China/India from inception to reality. In the finance function he used the combination of functional knowledge with passion for IT to improve productivity and cost of operation.
Chander holds a Bachelor of Commerce (Hons) from Delhi University and a CFA Charter from the Institute of Chartered Financial Analyst of India.
Shalija Verma Academic Head
Shailja Varma is the Academics Manager at eAge Software Services with over 18 years of experience in teaching and administrations in reputed schools  in India.

In her last assignment at DAV Public School, she was in charge of the administrative and academic work which included planning of the content,  execution of the examination related work , competitive exams  execution, coordination  and preparation of the detailed schedule of the classes. She stepped into new avenues of online teaching last year

 Her main skills are adaptability, innovativeness, motivational skills, crisis management skills and will to explore new horizons.
eAge Software Services is a technology start up and our mission is to develop online solutions in education and virtual meeting space using advance technology of global standards.
With presence in India and Singapore, eAge owns and supports the complete customer cycle from conceptualization to implementation.
To be the best-in-class portal to serve knowledge, infotainment and professional needs of GenX and to be a provider of technology solutions and services education providers and corporates.